Book your room now
Lowest price guaranteed on our website
Welcome to Hotel Sven Vintappare, anno 1607. This boutique-hotel offers 7 rooms for a total of 18 guests.
Breakfast and Wifi is always included!
If you need help with the booking, call +468-224140 or send an email to info@hotelsvenvintappare.se
Book now
Our rooms
Read more about our rooms
Hotel Sven Vintappare is located in the small ally "Sven Vintappares Gränd 3" in the central parts of historic Old Town in Stockholm. The hotel has seven room for a total of 18 guests. Here you find single, double, twin and family rooms.
Every room has a have preserved old details from the buildings long history. Panned windows, gustavian furniture, wooden floors and some rooms have old tile stoves.
See all rooms
Our delicious breakfast
At Hotel Sven Vintappare breakfast is always included. It contains a variety of fresh products, from homemade granola to smoothies. To top it off we offer barrista coffee every morning.
Tourist in Stockholm
Explore our capitol
Here you will find links with information about some of the most popular tourist sites in Stockholm. If you have any specifik questions please send us or "Visit Stockholm" an email.
Read more
Guestbook
Our guest speaks their mind
Perfekt läge i Gamla stan. Nära till allt. Väldigt charmigt familjeägt litet hotell. Trevlig personal. Perfekt för en Stockholmsweekend. Sköna sängar. Det finns inte ett hörn, fönster, dörr eller vägg…
Jörgen S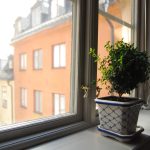 Vi är så nöjda. Mysiga och pittoreska rum med gedigen historia, mycket trevlig personal, hembakt välkomstfika, god stor frukost och stor flexibilitet vid utcheckning om ej fullbokat. Rekommenderar verkligen detta…
PeterSR
Härliga rum och mycket trevlig personal. Läget mitt i hjärtat av gamla stan. Allt andas verkligen historia. Rekommenderar detta för en mysig vistelse på tu man hand. Fiket nere är…
Per S
I gamla stans gränder finner man detta lilla hotell med anor som går 400 år tillbaks i tiden. Smala trappor, sneda golv men fullt av charm och personlighet. God frukost…
Lina D
Read more på Tripadvisor